Getting here
Address
Arena Park
Jaruščica 4
10000 Zagreb
Arena Park is located on the south west entrance to Zagreb just beside Arena Centar.
Car
If you are arriving by car, head southwest of the city to the roundabout on the Jadran bridge. Follow the directions to Arena Zagreb. Arena Park is located west of Arena Centar.
Parking information
In front of Arena Park there are around 200 free parking spaces.
---
Public transportation
Tram
You can take the tram lines 14 or 7 from downtown Zagreb or from Novi Zagreb.
Bus
Even 15 bus lines pass near Arena Park and stop at 4 bus stops. You can check the exact location of stops in the picture below.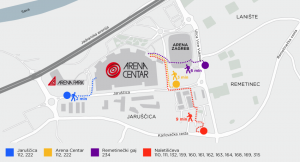 From Žitnjak terminal to Arena Park (Jaruščica stop), bus line 222 runs every 30-40 minutes.
From Zagreb Main Railway Station to Arena Park (Remetinečki Gaj stop), bus line 234 runs every 20-30 minutes.
From bus terminal Savski most to Arena Park depart (Naletilićeva stop cca 10min walk to Arena Park): 110, 111, 132, 159, 160, 161, 162, 163, 164, 168, 169, 315. Bus line 112 stops at Jaruščica station.
For details on timetables and routes, see more HERE.
For all news, changes to the timetable and routes more on ZET pages.
---
Taxi
Taxis are available in front of the Arena Centar (which is right next to Arena Park) at the taxi stand. Also you can call a taxi or use an app.
Radio Taxi Zagreb 060 800 800 or +385 17 17
Eko Taxi 060 77 77 or +385 1 14 14
Taxi Cammeo 060 7100 or +385 12 12
Uber application
Bolt application
Bicycle
If you are coming by bike, there are bike racks close to the every entrance to Arena Centar, which is right next to Arena Park.
Nextbike station
If you like cycling, next to the Arena Centar (which is right next to Arena Park), on Dalmatia Square, is the Next Bike Station.